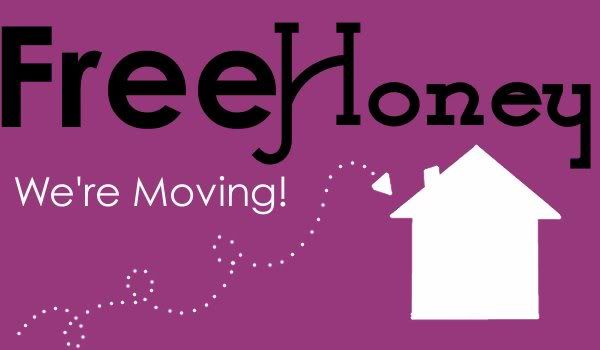 Big news! We're moving. Free Honey is moving on over to WordPress.org. Expect the debut of our brand new home sometime next week. We're hard at work getting things ready and giving ourselves a little face lift. We can't share our new URL with you quite yet, but stay tuned. We're excited to have a more professional and polished look. We hope you're just as excited as we are!
While our blog is still a baby in the blog world, in the spirit of blog improvement we want to share 5 blogging lessons with you all. Maybe you already know these things, or maybe you're just starting out, but either way – these are some of the things we've learned along the way:
Give good comment. These is nothing worse that disingenuous comments. You're not making any best friends by running around to hundreds of blog saying "cute outfit!" or "nice skirt!" I know it's tempting to comment on as many blogs as possible, but it's not going to help you in the long run. One of the best parts of having a blog is getting to meet like-minded people. I'm pleased to say that I've met many amazing friends through blogging. I'm happy to stay up past my bed time emailing with a blog friend about your blog, your job, your boyfriend, your mom, or your boyfriend's mom. But leaving phony comments isn't the way to make friends.
When it comes to design – less is more. I'll admit to succumbing to the temptation to over-design our blog. There's so many nifty tricks out there and so many pretty colors to play with. BUT, style blogs tend to be photo-heavy. Let your photos be the focus. Use a white our grey background with minimal extra decoration. Please resist the urge to have a hot pink background or use a widget to play your favorite song. It will only make people click away and never come back.
Don't get caught up in the numbers. Google analytics makes it really easy to get caught up in the numbers. And it's so easy to compare your blog to other blogs. Sure, you want to be growing, but blogging should be fun. I'm all for treating a blog as a business, but stressing about the numbers won't make them go anywhere. Work on finding your voice, writing good content, taking great picturea, and making relationships and people will come.
You don't need 50 photos of every outfit. I get it, you had a photogenic day and you look great in every photo. You don't need to post them all. Keep it to 5 or so photos. Make sure to include photos from different angles and at different focal distances. Maybe take some detail shots of that great necklace or bracelet you're wearing. Variety is the spice of life when it comes to outfit photos.
Mix it up. Don't get stuck in a rut. Experiment with different types of content. No matter how well-dressed you are, you'll have days you want to wear a grungy tshirt and yoga pants and watch reruns of Hoarders on A&E all day (oh, just me?). Use those days to play with new content. Try posting a DIY project, a trend story, or any kind of how-to post. Who knows, you may gain some new readers in the process.
So, here's to a better Free Honey coming very, very soon. See you at our new home!
Follow my blog with bloglovin