So tell me girls, am I the only one who feels the need to go barelegged the second the temperature rises above 60? Even if it means wearing very high socks, I am not wearing tights or pants. Success!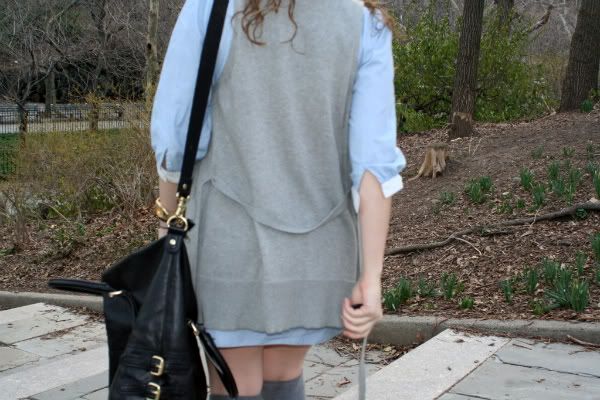 Even thought it's gotten cooler since I took these pictures on Thursday, I'm still cheered at Spring's arrival. In case anyone missed it, yesterday was the official start of Spring! Welcome Spring! I've missed you terribly and I'm so glad you've come back to visit me. I've got so many fun outfits in store for you! Does the thought of warmer weather make anyone else use excessive exclamation points? No, just me? Damn.
[Dress: French Connection // Vest: Lord & Taylor // Socks, Shoes & Sunglasses: Forever 21 // Bag: H&M]
I hope everyone had a great weekend and a not-too-terrible Monday. I took a much needed timeout this weekend and stuck pretty close to home. My biggest adventure was yesterday when I headed downtwon to watch my friend Nick finish the NYC Half Marathon. Well, he was faster then I thought (CONGRATS AGAIN!), and so I was late. Whoops. The rest of the weekend was spent relaxing and recharging. I feel like I hadn't fully recovered from all the traveling I did last month, I still haven't even managed to pull together a photodiary of our Vegas trip and my second foray to San  Diego. I had such an amazing time, I feel like that might just deserve a belated photodiary!