About Us
Welcome to Free Honey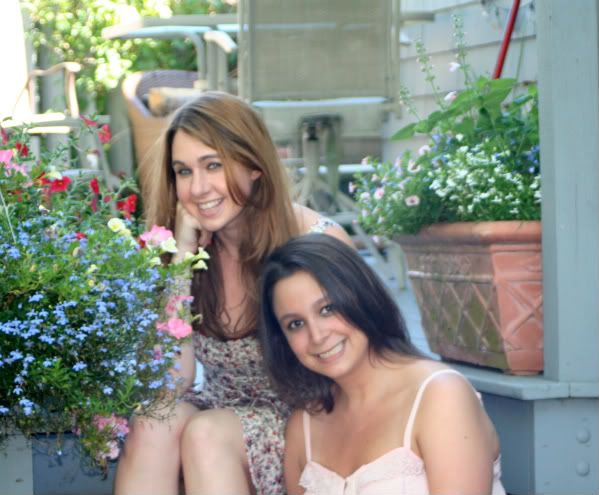 Hi! We're Ashley and Becca. If you are in search of complimentary honey, we regretfully inform you that it will not be found here. However, you will find great fashion, photography, DIY projects, and shopping tips. We try to keep everything within a reasonable budget, but we've been known to lust after designer loot every once in a while, too. As of 2011, this blog is bi-coastal (sounds fancy, huh?) – Becca lives in San Francisco and Ashley lives in New York. We share a love of fashion and style. We drink too much coffee, and probably too much wine. We love to shop, love to read, love to laugh – and clearly, love to share. In fact, we are chronic over-sharers – hence our move to start a blog.
Plus, we're pretty into feedback! So, please leave us a comment, email us at info@free-honey.com, or use our contact page to get in touch. Enjoy!
About Ashley:
Oh hey buttercups, I'm Ashley.  I'm 25 and I live in Manhattan.  I started dressing myself at the tender age of 2 and a half (seriously, ask my mom…or my preschool teachers who might have actually found her unfit based on some of my outfits), and I've never looked back.  My early sense of independent style was quickly followed by a love of shopping that was cultivated by my father – a born shopper and bargain hunter if there ever was one.  I (obviously) love to buy clothes, but I also thoroughly enjoy grocery shopping, and going to Ikea, or even helping other people shop.  In fact, I once spent a delightful afternoon with Becca, helping her pick out living room furniture.
I find it hard to define my style, because it's constantly changing.  I'm also the kind of person who will wake up and look at her closet and think, "Hmm, who am I going to to be today?"  I have a (somewhat inappropriate) tendency to ignore the normalcies of what I should be wearing for a certain occasion and I just wear what I want. Which often ends with me at the grocery store in thigh high boots, or at a bar wearing a flouncy floral dress while everyone else is decked out in all black or skinny jeans.  Things that are constant include my passion for capes (or things that resemble capes/ponchos) and anything that is black & white or striped.
I do have a few hobbies besides dressing myself and looking in mirrors…  I have a penchant for trashy TV, taking lots of photos and reading library books.  I love country music and I adore show tunes.  I also love to run but only outside, not on treadmills.  Cheeseburgers and burritos hold a special place in my heart (err, stomach) and I will put mustard on almost anything.  I firmly believe that nothing caps off a summer night like an ice cream cone  and I come from a family of terrible secret keepers, but I'm the exception to the rule.
About Becca: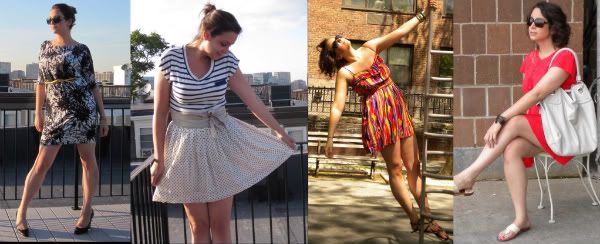 Hi! I'm Becca. I'm 24 years old and I recently moved from Boston to San Francisco. I've always had an appetite for clothes and shopping. I can remember dragging my mom to the mall every weekend of my pre-teen years so that I could check out what was new at American Eagle, The Rave, and Forever 21 (hey, I never said I was born with good taste – I'll openly admit that I've made some questionable sartorial choices in the past). I like to experiment with clothing, but I'm still struggling to define my personal style. I am a voracious consumer of fashion magazines. Outside my monthly magazine fix, I get a lot my fashion inspiration from movies, street style, and, now, blogs. I'm an old soul. Oftentimes, I have an urge to dress in a way that is inconsistent with my age and lifestyle. I frequently joke that although I don't know what I want to do with my life, I'd like to find a life where it's appropriate to wear chic black dresses and printed caftans on a daily basis. I'm perpetually searching for an occasion where I can wear formal, elbow-length evening gloves (I've yet to find such an occasion).
My favorite color changes regularly. Right now, it's a toss up between an intense colbalt and a warm shade of orange-y yellow. I've always loved to read, even in grade school when it was an extremely uncool pastime. Reading "Infinite Jest" by David Foster Wallace was my most ambitious and rewarding literary undertaking, it also turned out to be my favorite book. I taught myself how to cook, but I'm still trying to improve my skills in the kitchen – I'm a culinary work in progress. Despite any highbrow culinary aspirations, I'm on a quest to find the world's best egg roll. I have a severe case of wanderlust. Safety concerns aside, I think it would be awesome to take a road trip through Africa. I enjoy dogs wearing clothes (even better if it's some type of costume). USA Today's Monday crossword puzzle always makes my week – it makes me feel much smarter than I actually am. I have a very eclectic music taste and I love finding new, unknown bands. I can't find a radio station that suits my taste in music, so I frequently listen to NPR on the radio in my car. My first concert was The Beach Boys with John Stamos as guest drummer. He gave me one of his drumsticks, which I lost soon after – I still haven't forgiven myself.
If you want to learn even more about me, you should check out my personal homepage and the blog over there.